Medgre Charge Capture & Rounding System
Capture charges accurately on the go and be sure of being paid for them.
CAPTURE CHARGES AT THE POINT OF CARE ON A HAND HELD
Capturing the physician's charges correctly, completely, and on the spot is crucial to the financial health of a healthcare provider organization. Medgre Charge Capture & Rounding system helps physicians to capture the encounter and billing information of patients in a hospital, or any other facility outside their own clinic on their own mobile phones or tablets. The charge information is directly captured in Medgre via the internet.
Key Feature for Physicians
CAPTURE CHARGES AT THE POINT OF CARE ON A HAND HELD
No more papers
Admitting or Attending or Follow up
Sort & Filter Patient list
This week, last week etc
Hospital/facility wise
Patient type: admitting or attending or follow up
Patient status: Admitted or discharged
Billed or not billed or problem
One – click encounters
Copy charges from past encounters make changes & save
Pull patient billing & charges history
Hospital feed creates Patient case
Cases/patients for a day for a hospital/facility show on home screen
Quickly Select ICD 10 codes from preferred list
Select Service codes (CPT) from preferred list
LIST ALL ENCOUNTERS
Color coded for billed & not billed
Integrated with EHR & Billing systems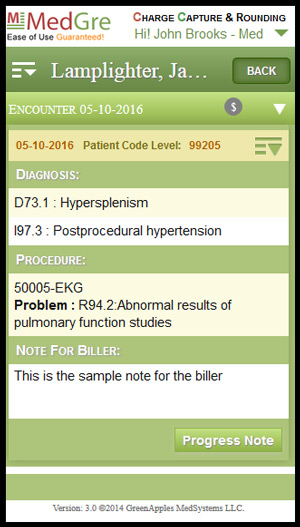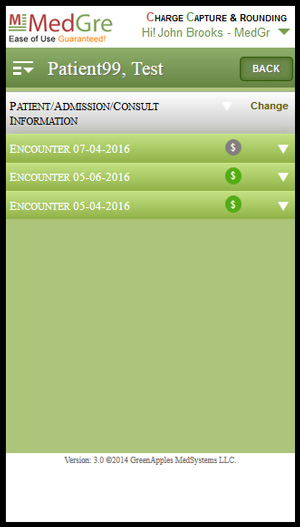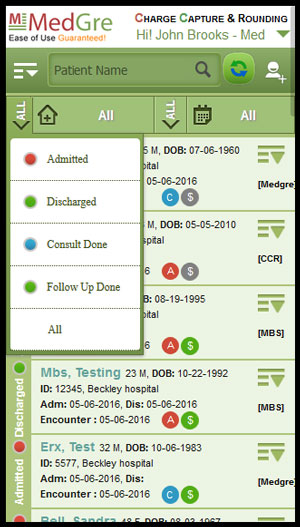 Key Features for Coders & Billers
SCRUB CLAIMS before they go to billing system
Set status to bills
Securely communicate to physician
Access patients Information

Process Flow